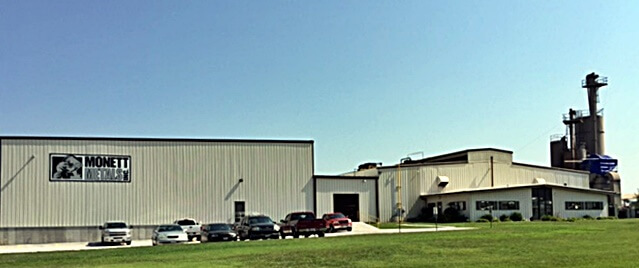 Facilities and capabilities
 
Monett Metals, Inc, was founded in 1975 as a privately owned company. In 2014, MMI became a wholly owned division of Amerector. The production facilities are located in a 64,000 sq ft facility on a five acre site in Monett, MO.
MMI has combined superior craftsmanship and the latest technology with the ability to adjust to and meet specific customer demands. Our staff includes welders certified to ASME Section IX and MIL Std NAC SEA and ASTM-A-488. Our employees have a combined knowledge of over 500 years of training.
Our expanding customer base is due to our commitment to customer requirements for quality, delivery and competitive pricing. We have developed techniques which make us uniquely successful in economic small quantity production.
Our engineers can work with you to achieve improved casting quality at the lowest possible cost. Full utilization of SolidWorks and SolidCast software ensures an accurate sound casting.


Molding
The no-bake furan process used at MMI produces an excellent quality casting with outstanding repeatability surface finish and dimensional control. The process allows closer tolerances and smoother casting finish than green sand technology. We utilize the lowest oxygen and nitrogen binder to preclude defects. Our versatile molding stations are capable of producing flaskless molds in all sizes commensurate with our furnace capabilities.


Melting
MMI operates four coreless induction furnaces allowing for the production of finished castings ranging from one pound to 1500 pounds. Certified materials, in process melt analysis and final certifications assure the consistent quality of the finished product.


Cleaning and Heat Treatment
MMI raw castings are cleaned of rigging and ground to dimensional tolerance by skilled craftsmen utilizing both traditional and state of the art equipment. MMI takes pride in producing the finest surface finish in the industry.
Our heat treat furnace and related quenching capability allows for precise conformance with a wide variety of ASMT, Military and proprietary heat treatment specifications.


Patterns
MMI's strong relationships with several quality pattern facilities allows for maximum versatility and minimum lead times in the production of new project tooling. Tooling modifications, repairs, mounting and rigging can be performed on site by trained Monett Metals staffing.